Fresh Air Cooling System Rooftop Unit
With Indoor air quality and running cost being more important, the Rooftops could be equipped with economizer and fresh air hood to improve comfort through better fresh air management and allow energy savings with free cooling.
Features
CASING/STRUCTURE
The casing is made of zinc coated galvanised steel sheets. It is further treated with an electrostatic powder coat then over baked to provide a weather resistant finish to suit the harsh climate. The screws are also zinc plated to improved product durability.
COMPRESSOR
High efficiency scroll type compressor is hermetically sealed, quiet running and supported on rubber mounts to minimise vibration. All compressors are provided with an internal overload protection, and incorporate crankcase heater for smooth start-up under any conditions.
CONDENSER AND EVAPORATOR
The condenser and evaporator coils are manufactured from seamless copper tubes mechanically bonded to blue hydrophilic aluminium fins to ensure optimum heat transfer. The shoulder of each fin adjoins the shoulder of the adjacent fin, completely encasing the copper tubes for maximum heat transfer. The generously sized coils provide ample capacity under all normal operating conditions. All coils are pressure tested to 450Psi at the factory to avoid leakage. To improve corrosion resistance, a hydrophilic Gold Fin is provided as optional.
CONDENSER FAN AND MOTOR
Direct driven propeller axial fans are used for maximum condensing efficiency.
EVAPORATOR FAN AND MOTOR
Fans are of the centrifugal type that is designed for maximum efficiency for uniform air distribution. Traditional belt driven or EC plug-fan.
INSULATION
Ripple type acoustic insulation for compressor section, low noise. To prevent the likelihood of condensation occurring the unit is equipped with 10mm Polyethylene panel insulation for coil & fan section.
SAFETY
Electric panel consists of breakers and contactors for compressors and fan motors, phase sequence relay and other necessary protection devices for the main components. All electric parts are Schneider Electric brand.
*SIEMENS PLC Controller is optional.*Main power supply breaker is optional.
EASY INSTALLATION AND MAINTENANCE
The base beams are fixed and provide a rigid foundation for the entire unit. The beam has forklift slots or rigging holes for easy handling. To keep installation as hassle-free as possible, Sendo units are fully factory assembled, tested and charged with R410A refrigerant. Only ductwork and external wiring connections are required to make the units completely operable ensuring rapid, low-cost installation. For ease of commissioning and maintenance, Sendo units include easy access to the electrical cabinet and major refrigeration components. The unit provides external pressure gauge for convenient and fast checking system pressure without removing the panel. If the unit is in running with abnormal operation, the controller will show the error code for easy troubleshooting.
OPTIONAL ACCESSORIES
Tropical climate T3 application
Optional supply / return air configuration
Optional golden condenser & evaporator for some area need special anti-corrosion
Economizer/Free cooling
Additional water heating coil
Additional electric heater
Heat recovery
100% Full fresh air
Optional high level filter
Optional precision temperature & humidity control
Specification

Model SRT-ST1HXXA(BD)

12

15

20

25

30

35

45

50

60

70

90

100

120

140

150

180

200

300

400

Cooling

Capacity

kW

12

15.2

17.5

24

30.3

35.6

44.5

50

60

70

90

105

120

140

150

180

210

298

392

Power Input

kW

4.1

5.3

5.5

8.8

11.3

12.3

17.0

19.5

22.8

26.7

32.9

39.7

45.1

55.7

55.1

69.9

83

106.7

140.2

Heating

Capacity

kW

13.2

16.6

18.4

26.5

33.3

37.7

48.7

54.3

64

75.4

96.2

113.2

128.3

150

159.2

192.5

226

318

414

Power Input

kW

3.8

4.8

5.1

8.2

10.4

11.3

15.6

18

21

24.8

30.4

36.7

41.7

51.8

51.5

64.8

77

100

133.8

Refrigerant

Type

R410A

Compressor

Type

Scroll

Condenser

Type

Copper Tubes Mechanically Expanded into Blue Hydrophilic Aluminum Fins

Condenser Fan

Type

Axial / Direct

Evaporator

Type

Copper Tubes Mechanically Expanded into Blue Hydrophilic Aluminum Fins

Evaporator Fan

Fan

Type

Belt-Driven Centrifugal Fans

Supply Airflow

m3/h

2100

2600

3400

4100

5200

6300

7600

8500

10900

12500

16000

19500

21000

25000

26000

32000

38000

54000

67000

ESP

Pa

100

100

100

200

200

250

250

250

300

300

300

300

400

400

450

500

500

500

500

Filter

Standard

Type

G3 Aluminium Filter / Washable

Sound Level

dB(A)

67

67

68

71

72

72

73

73

73

74

74

75

76

79

79

80

80

82

86
* Performance values refer to the following conditions:
Cooling: room air temperature 27.0°C DB RH 50%, ambient air temperature 35°C;
Heating: room air temperature 21.0°C DB, ambient air temperature 7°C DB / 6°C WB.
** Noise level measured by adopting average value in the noise lab with background noise of 25 dB(A), at a distance of 1.5m high fan speed.
***Specifications are subject to change without prior notice for SENDO product improvement.
Dimension (Please contact manufacturer for more information)

Workshop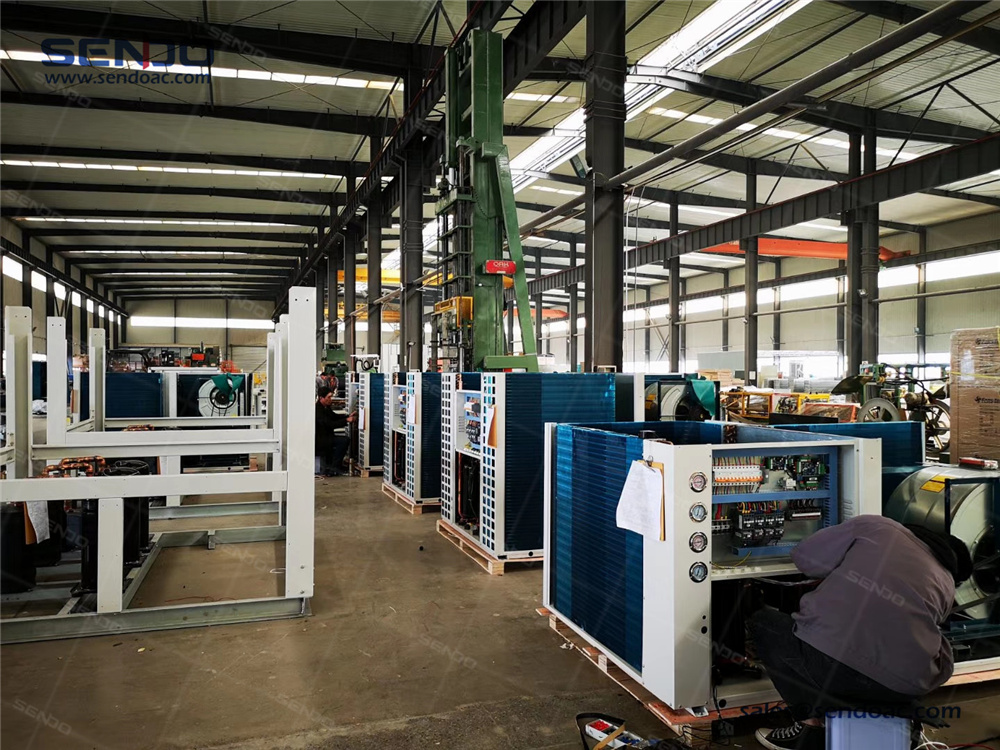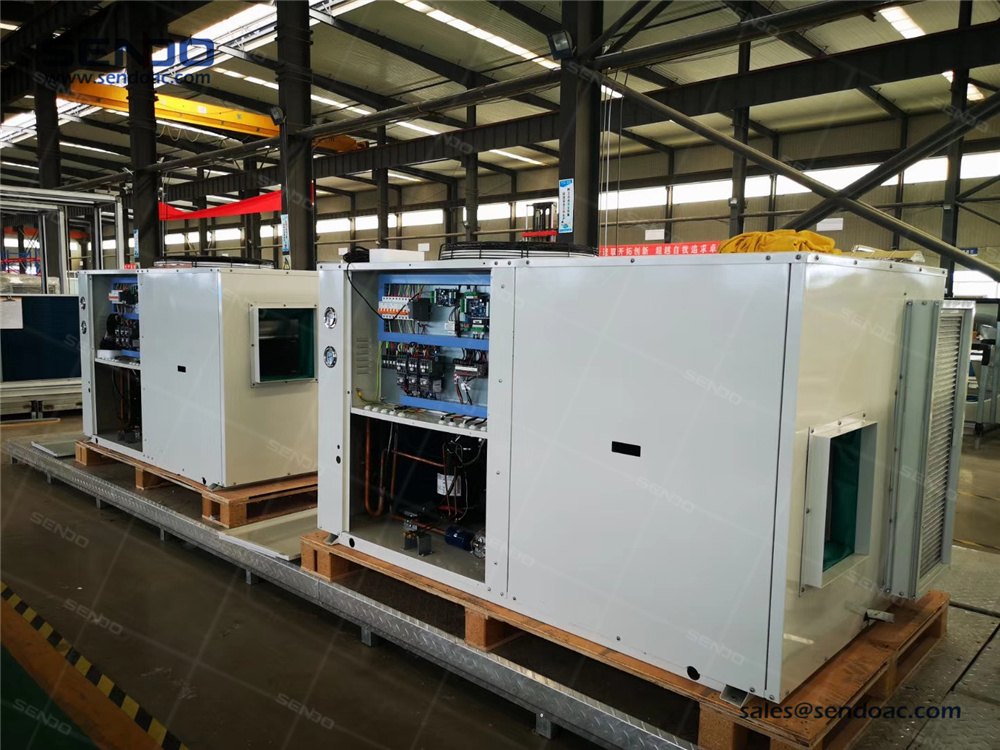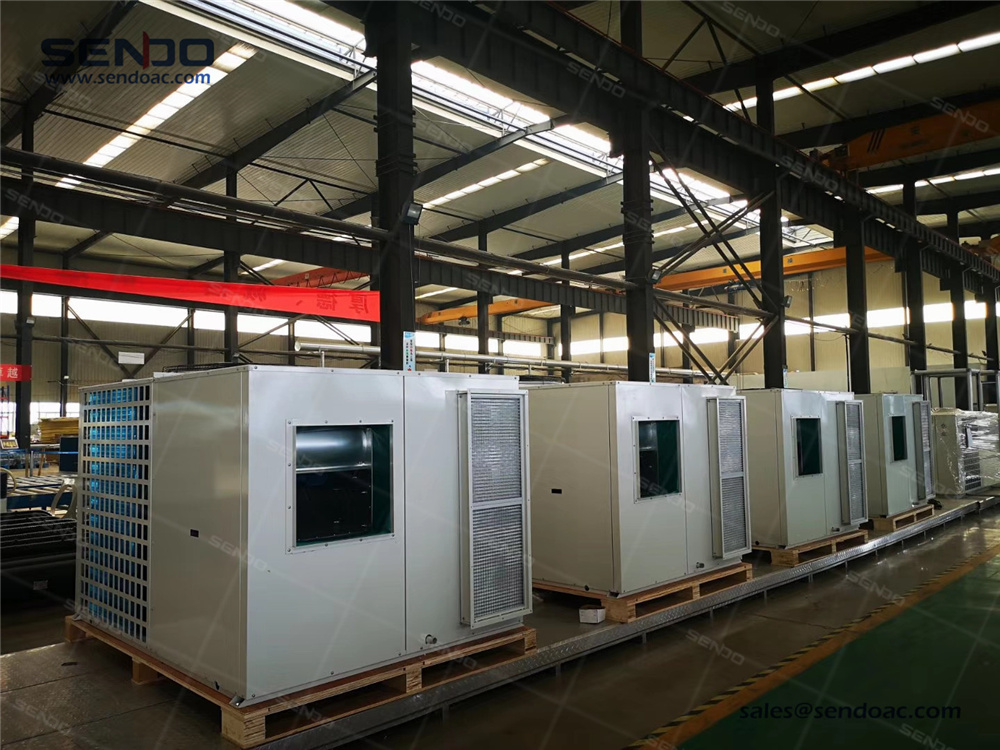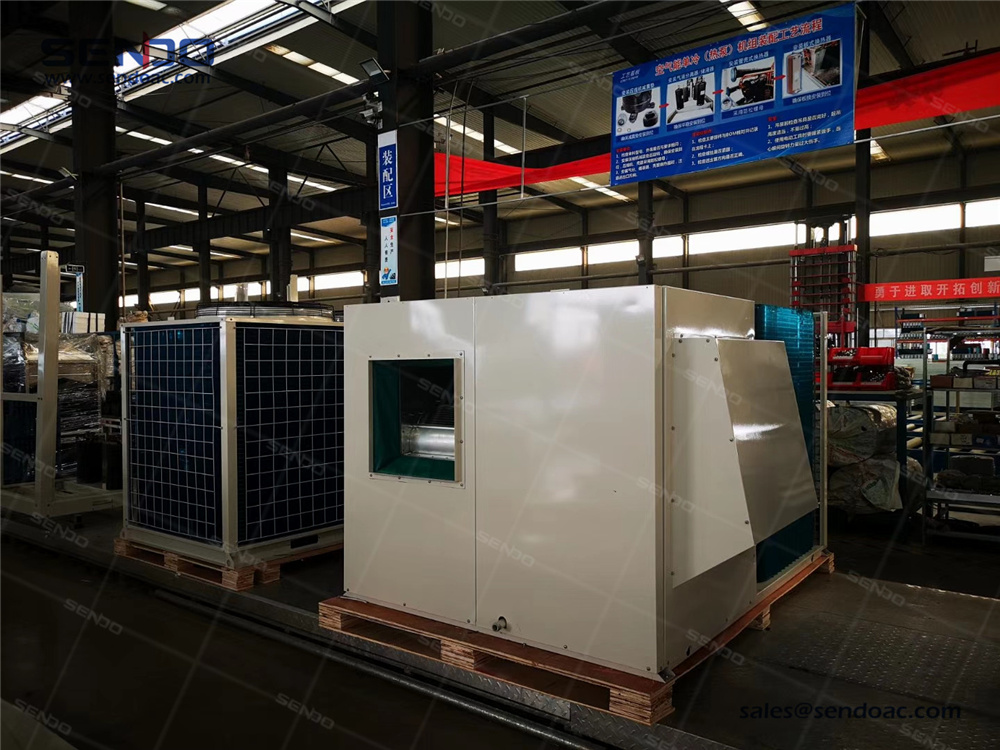 One of the most challenging applications of an HVAC system is to provide 100% outdoor air to a space to fulfill building design recommendations. It requires a system that is capable of conditioning summer and winter outdoor air to the required indoor comfort conditions – on a continuous basis. Sendo offers 100% Fresh air packaged unit designed for year-round operation handling hot & humid to cold & dry fresh air. Sendo 100% dedicated outdoor air rooftop systems (DOAS) are optimized to meet this challenge, efficiently and effectively. Sendo rooftop systems provide features and solutions for demanding applications like laboratories, clean-rooms, pharmaceutical buildings, healthcare facilities, and schools that require superior conditioned air for improved indoor air quality and increased occupant comfort.